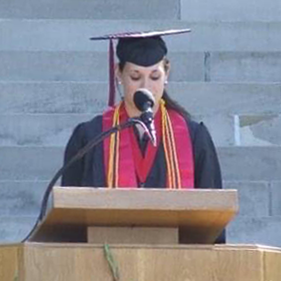 Meet Lucie Peoples. Lucie joined MGC in 2014 as an attorney on the firm's Asheville litigation team.
While a political science, psychology and women studies student at Transylvania University in Lexington, Kentucky, Lucie was a volunteer rape crises counselor for the local crises center's 24-hour hotline. "I would answer the hotline's nighttime calls from 7:00 pm to 7:00 am and talk with survivors to bring them to a point of calm and clarity," she says. Most often, their calls being prompted by movies or shows on TV – triggering events that sparked post-traumatic stress. "Some of those survivors needed to work through their experiences, and have their voices be heard in a safe and anonymous setting," Lucie adds.
Lucie also counseled survivors undergoing rape exams. "I would go to the hospital, meet the survivor, hold their hand, and advocate for them in a sterile and often foreign environment," she says. "My sole job was to help these survivors get to the next minute, hour or day. It was an honor and privilege to hear their stories."
Pictured above is Lucie speaking at her college graduation.